Dan Bylsma sucks.
Disco Dan is an awful coach.
Bylsma is only riding the coat tails of Sid and Malkin.
Bylsma needs fired, he doesn't change anything.
We hear it all of the time. On radio, on Twitter, on Facebook. So many people hate Dan Bylsma.
So many people are dead wrong.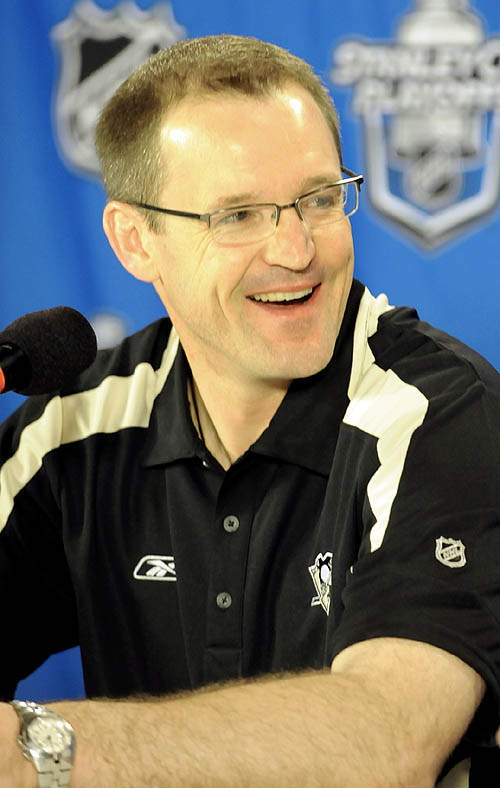 (Lake Fong/Pittsburgh Post-Gazette)
He came in like a lightning bolt and completely changed the path of a team heading for a crash after losing the Stanley Cup the year before. He took a team from 13th to 4th in the standings. He led his new team to the Cup.
And he gets no credit.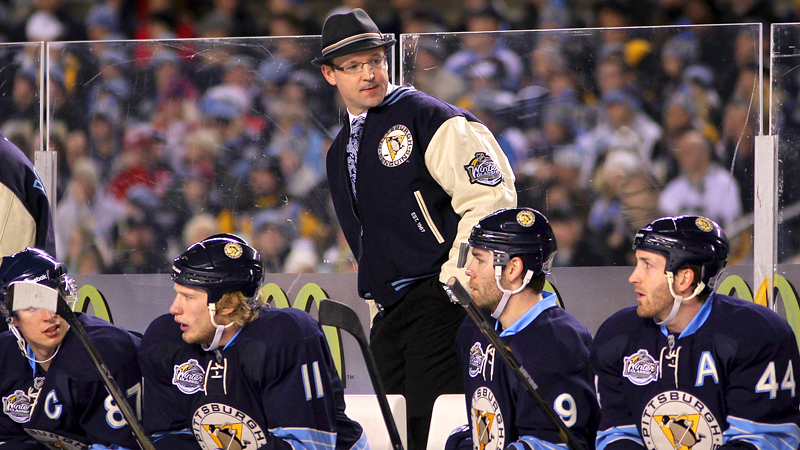 (Dave Sanford/Getty Images)
"Anyone could have taken that team to the Cup." And yet Michel Therrien had that team firmly out of the playoffs when Bylsma took over.
"He got lucky and rode that team. He did nothing different." Luck doesn't win you 16 playoff games. Lucky doesn't change the system on the fly and see the team rattle off 18 wins in 25 games. Especially not when the coach who was just terminated won only 23 all season prior to his termination.
"Bylsma system sucks." With Dan Bylsma as coach the Penguins have made the playoffs every year. They've never finished below a 4th seed. They've done so with Sidney Crosby and Evgeni Malkin missing significant portions of time. It's a system that allows for scoring champions to shine, saw almost all four wingers reach 50 points in a season (last year) and plays to the strengths of the supporting cast. He's the fastest coach to 200 wins. The Dan Bylsma system allows his players to excel. (Charles LeClaire/USPressWire)
"Dan Bylsma never adjusts anything." Tell that to the Islanders who saw Bylsma adjust the defensive scheme, having his defensemen step up more in their zone, saw him change the break out to focus more on up ice passes than using the boards in their usual D-to-D-to-Wing break out, and who saw Bylsma change the tempo of the games and slow them down. If Dan Bylsma never made adjustments the Penguins would be golfing.
Want further proof? Look to Game 3 of this series. The Penguins nearly perfectly executed a defensive, shut down game plan that was freshly installed (out of necessity) by Bylsma. The biggest shame of that game is not the loss itself but that a ten second lapse in judgement by the team cost the game, a game which was masterfully run by the coach. He's also done a superb job of outcoaching and outscheming Jack Adams candidate Paul MacLean. Last night was no different. Adjustments made to line ups, simple yet effective, made the defense more formidable and helped lead the Pens to a devastating win.
"He's too much of a player's coach to take his players to task." Tell that to Marc-Andre Fleury who is still riding the pine after being THE GUY for years. Ask Tyler Kennedy, who was held accountable for his poor play and is now playing his best hockey in years, how Bylsma's methods helped him become better. Ask Petr Sykora about how Bylsma rewards lackluster play.
"He's failed what's going to be four post seasons in a row. He should be fired." By that metric so has Mike Babcock, the coach of the revered and intimidating Detroit Red Wings. Fun fact: The Red Wings have won one more series than the Penguins since they last met in the Finals. Mike Babcock is considered one of the best, if not the best, current hockey mind. Until this year he did so with perhaps the second most talented line up in hockey. Should Mike Babcock be fired?
(Jeff Vinnick/Getty Images)
That doesn't go into the mitigating factors of those post season failures.
A largely beaten and battered team that was carried by Crosby and not much else lost, in seven games, to a Montreal team playing above their pay grade one game shy of the Eastern Conference Finals.
A team with Mark Letestu as its top center, centering an aged Alex Kovalev and a snake bit James Neal, took a Tampa Bay Lightning team that made the Eastern Conference Finals to seven games
before they finally ran out of gas from playing a solid portion of that season with no Sidney Crosby and Evgeni Malkin.
The Flyers series? About the only "failure" you can pin on him. A reminder, however: No active coach has won more than one Stanley Cup. He's not infallible, but he's much better than you think.
And now here we are. The Penguins are on the cusp of going back to the Eastern Conference Finals. A large part is the moves Dan Bylsma, Jack Adams winner, has made to get them past adversity and challenge.
It's time to change the narrative. Dan Bylsma is not an awful coach. Dan Bylsma is one of the best coaches. And he coaches your team.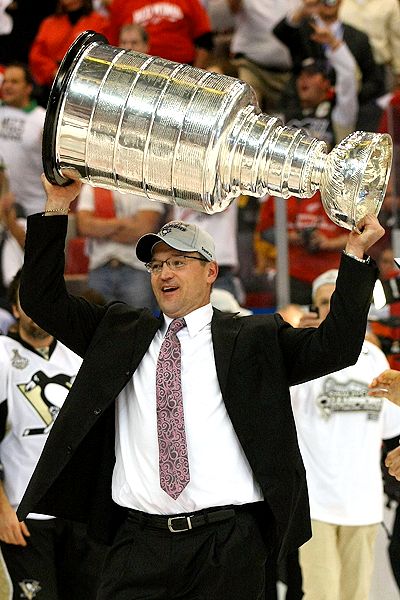 (Bruce Bennett/Getty Images)
_________________________________________________________