Five legs and two arms. They determine the fate of the four teams in the AFC South. The run game of Maurice Jones-Drew will be depended on to carry the Jaguars to another dimension. Kris Brown was the difference between the Playoffs and just a winning record last year. The legs and occasional arm of Vince Young added a whole new dimension to the Titans, pulling them out of the cellar. And there's the ever reliable and slinging Peyton Manning. Five legs and two arms that make up the fates of the entire AFC South.
The AFC South
Houston Texans
2009 Record: 9-7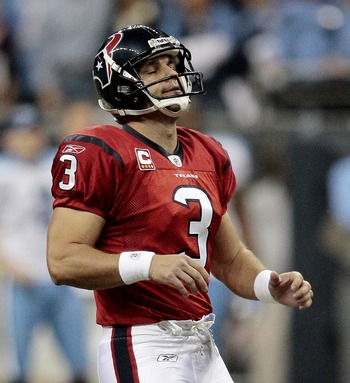 The clock was winding down. It was late November. The Playoffs were in view and so was a tie with the Tennessee Titans, a team on a mid-season tear. All Kris Brown needed to do was boot a tricky but possible to make 49 yard field goal. He pushed it. The Titans won. The Texans lost a heart breaker. And less than a month earlier, the same thing happened against the Indianapolis Colts. Two missed field goals. Two chances at OT. Two missed opportunities to win and, at the end of the day, go to the Playoffs for the first time in team history.
While the Texans offensive talents lie far beyond the leg of Kris Brown, who usually is a steady kicker, last year he was likely what kept them from making their first trip to the Playoffs. That and their suddenly vanished running game. Steve Slaton, who had a stellar freshman campaign, fell off of the face of the earth gaining less than 450 yards on the ground. He was the main reason that the Texans run offense was ranked 30th in the league. It mattered not as it was bolstered by the best passing game in the NFL.
Matt Schaub and Andre Johnson look to continue their stellar combination. The return of Owen Daniels to the line up should also bolster their air attack, which should once again flourish. Now can the decent defense of the Texans compensate for the loss of All Pro DB Dunta Robinson, who left via free agency to Atlanta? The drafting of Kareem Jackson of Alabama should help cushion the loss, but not make up for it.
2010 Prediction: 10-6
Indianapolis Colts
2009 Record: 14-2
After 11 years behind the Colts line, and 192 straight regular season games played, you'd think Peyton Manning would slow down but he showed no signs of slowing down in 2009. He set a career record in yardage at 4500 in the air. This after breaking in several new wide receivers in a way that only Peyton Manning can do. Despite a sour end to the season, he was starting to get whispers of "Best Player Ever" echo into his ear.
He was able to do it all on his own in about as literal sense as you can get. The Colts run game was ranked dead last in the league in 2009, averaging just shy of 80 yards a game. Is this an indication of the skills of Joseph Addai and Donald Brown, or is this because well... the quarter back is Peyton Manning and they don't really need to run? When you have a quarterback who averages over 280 yards per game and can throw with such pin point accuracy that throwing is basically not a risk, a run game is a formality.
The defense is the only thing that could prove a hiccup for the Colts in the season to come. How they play truly depends on three people: Dwight Freeney, Gary Brackett, and Clint Sessions. They are the straw that stir the drink when it comes to the Indy defense. If all three are healthy all season long (something that has rarely happened) they will have a fine "bend but don't break" defense capable of not losing games and making the plays when needed. If they are unhealthy, look to Super Bowl XLIV for an indication of what could happen. In the end, though, it all comes down to Peyton's right arm.
2010 Prediction: 12-4
Jacksonville Jaguars
2009 Record: 7-9
To play against Maurice Jones-Drew is to know what a bowling pin feels like. Small and thick, his body resembles a bowling ball and when he carries the load, as he did 312 times for more than 1300 yards last year, he is as likely to bowl you over for a strike than wait until later to collect the spare on the next go 'round as his 15 TDs from 2009 will show. And all this in his first year as the feature back of the Jaguars offense.
It's not being rude to single out Maurice Jones-Drew in the Jaguars offense. While quarterback David Garrard is far from chopped liver, especially after making his first career Pro Bowl in 2009 after throwing for more than 3500 yards, the fact remains that in his entire career he's never averaged less than 4 yards per carry and was finally given keys to the car last year after the departure of Fred Taylor to New England. He took the keys and rode the car for over 1700 all purpose yards. If he's successful, the Jaguars are always someone to be dealt with. Especially with the lack of receivers for Garrard to throw to.
The defense was once the bread and butter of Jacksonville, relying on it's size and skill and a solid run game to reach the Playoffs year after year. Jack del Rio had prided himself and his teams over the years on their defensive prowess. Like all good things, age has begun to catch up to them. Last year's defense was a far drop off from years past, ranking 27th in passing defense and 19th in rushing defense. With a division that features two of the most potent passing games in the NFL as well as one of the best running games in the League. Combine this with no real additions to the defense aside from the drafting of Tyson Alualu it should be a long year for Jaguar fans.
2010 Prediction: 5-11
Tennessee Titans
2009 Record: 8-8
He's unpredictable. His legs can do just as much damage as his arm. It added an extra oomph to the Titans offense that was missing for almost half of 2009 season, one that started out 0-6 behind the struggling Kerry Collins. After Young took over the reigns at quarterback, the team got a kick in the pants and began to play with new purpose. By the end of the year, the 0-6 Titans just missed out on the Playoffs. All thanks to the turnaround started by none other than Young.
As mentioned earlier, Vince Young is unpredictable. While he performed quite well in the second half to 2010 once given the role of starting quarterback, this is a role that has been seen by Vince Young before. In 2008 he was the starting quarterback. After one game, an underwhelming win (and the weird surroundings in his life that week), he was replaced by Kerry Collins. After, the Titans would go on to be 13-3. Will odd and erratic behavior re-surface or will he keep his job? Not that it would matter, with the beast they have in the back field.
Oh, Chris Johnson. Over 2000 yards rushing last season, and a combined 2500 plus all purpose yards. An absolute beast of a year, one that is in the record books. As soon as Vince Young took over at QB, his game exploded. He went from 99 yards per game to 156 yards per. Is he able to duplicate those amazing amounts again in 2010? Will their passing defense do better than next to last in the league, at over 250 yards per game given up? If Young and Johnson can continue their pace, they'll win. If their D doesn't improve (and they've made lateral moves through drafting and free agency), they will be on the outside looking in once again.
2010 Prediction: 9-7
AFC South Final Projected Standings-
Indianapolis Colts- 12-4
Houston Texans- 10-6
Tennessee Titans- 9-7
Jacksonville Jaguars- 5-11
Bold= Division Winner
Italics= Wild Card team
Coming Tuesday: AFC West