A weekly feature taking place during the NFL season. After going 5-5 through two weeks, here are the five biggest games to watch in the NFL for Week 3.
5. Pittsburgh Steelers vs. Tampa Bay Buccaneers
Sunday Afternoon- 1:00pm
Raymond James Stadium- Tampa, FL
Are the Buccaneers for real or is the 2-0 record an illusion?

How will Charlie Batch perform given the reigns as starter?

Which defensive unit, stout in two straight weeks, will come out on top?

Prediction: Steelers 13-10


4.) New York Jets vs. Miami Dolphins
Which Mark Sanchez will we see, Week 1 or Week 2?

How will the loss of Darrelle Revis effect the performance of the Jets D?

Is this the week Chad Henne finally breaks out?

Prediction: Dolphins 20-13
3. Atlanta Falcons vs. New Orleans Saints
Sunday Afternoon- 1:00pm
Louisiana Superdome- New Orleans, LA
Will the loss of Reggie Bush effect the Saints offense?

How many touches will an injured Michael Turner get?

Which defense will bend but not break for the win?

Prediction: Saints 24-20
2. Dallas Cowboys vs. Houston Texans
Sunday Afternoon- 1:00pm
Reliant Stadium- Houston, TX
Is this the game the Cowboys finally get off over the hump and out of their own way?

Will the Cowboys run to victory or keep using the arm of Romo to try to get the job done?

Will Andre Johnson's hobbled ankle hold back the Texans high flying offensive potential?

Prediction: Texans 24-21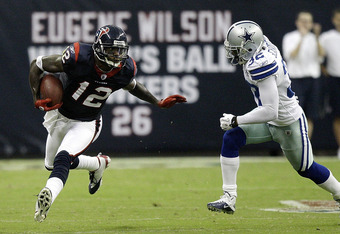 1. Green Bay Packers vs. Chicago Bears
Monday Night- 8:00pm
Soldier Field- Chicago, IL
How will Mike Martz's offense fair against the dangerous Packers defense?

Can the Packers survive without a legit and consistent running threat?

Who will go 3-0 and take the lead in the NFC North Division?

Prediction: Packers 27-17