We as a fan base often heap praise upon Sidney Crosby, and rightfully so, while sometimes turning a side eye to Evgeni Malkin. Malkin may win the scoring title occasionally but other times he seems inconsistent and enigmatic. You can question him, I feel bad for him.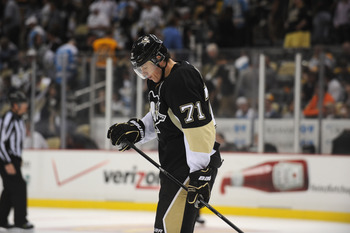 Last night Evgeni Malkin skated with Chuck Kobasew and Jussi Jokinen. Kobasew was once a 20 goal scorer but those days are behind him. Jokinen is an inconsistent yet talented journeyman. Yet these are two of the most talented wingers Malkin has played with in the more recent years.
Since the 2007-08 season, when Malkin finally found his wingers in Petr Sykora and Ryan Malone, these people have been Malkin's winger for at least one game:
Ruslan Fedotenko
Maxime Talbot
Tyler Kennedy
Chris Kunitz
Miroslav Satan
Jordan Staal
Pascal Dupuis
Alexei Ponikarovsky
Matt Cooke
Mike Comrie
Eric Tangradi
James Neal
Steve Sullivan
Beau Bennett
Zach Boychuk
Brenden Morrow
Jarome Iginla
Jussi Jokinen
Chuck Kobasew
Poor Evgeni Malkin. In the time that Sidney Crosby found Chris Kunitz and Pascal Dupuis Evgeni Malkin has found 19 different partners on his side. It's easy to look at the surface of the water and say that Evgeni Malkin has not been producing on his possible level. It's simple to look at the numbers and wonder why Malkin is not winning more scoring titles. It's lazy to wonder why he doesn't do more.
It's also wrong.
Evgeni Malkin has performed when he found one skilled winger. As soon as James Neal found Evgeni Malkin Neal became a 40 goal scorer and Malkin won the scoring title. Consistency is key for Malkin's success and as long as both parties are healthy they're half way there.
The future looks to be set up for Evgeni Malkin. James Neal is already a star, Beau Bennett looks to be the missing piece to make the line complete. Bennett will get the chance to grow with two stars and make Malkin whole.
For now you should feel bad for Evgeni Malkin. That time, however, is slowly fading. And Evgeni Malkin will shine.
_________________________________________________________