Whether Auburn and Alabama meant anything to you before Saturday night you've seen it over and over: one of the most memorable moments in sports history. The
2013 Iron Bowl
will go down in history as one of the most amazing and improbable endings to any game in history.
The Pittsburgh Penguins have had many years of memories and unlikely moments to build on. What's your moment?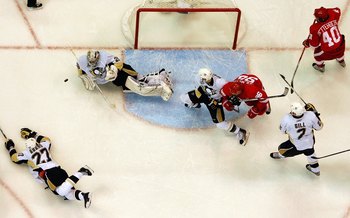 In terms of "awe" moments like the Iron Bowl, perhaps the best example is Marc-Andre Fleury's last second save in the 2009 Stanley Cup Finals.
Outside of an overtime goal in the Finals it doesn't get any closer than that to a historic, game changing moment.
Last week we had a new moment to provide that memorable moment of wow.
Last night we even had a new moment of wow:
It's one of many moments from the Crosby/Malkin era. Not to be forgotten from that time:
Another moment from this era that will always stand out? As the snow fell...
There are quite a few from the old school, home to a few moments both good and bad:
As for me? My moment? It's the moment that hooked me on the game of hockey and the Penguins.
As I've covered before I knew of hockey, was aware of the NHL and the Penguins before this moment. I remember parts of the '91 and '92 Cup wins. I remember pieces of the years leading up to this moment. However in the moment I was watching, waiting to see the Legend of Lemieux return. And he delivered quickly:
After that moment there was no turning back for me. I was all in with the Pittsburgh Penguins. That moment left me dumbstruck, that fairy tales could be written and happen in real life. Since then I've never let go.
This is my moment. When it comes to the Pittsburgh Penguins what is YOUR moment?
_________________________________________________________