It's that (awesome) time every four years when the Winter Olympics come around.
Eh?
Don't get me wrong, I love the Summer Olympics. I'm looking forward to London in 2012.
Yes, that's the logo.
However two things trump any Summer Olympiad every single four year cycle for me.
1.) Curling
Not too shabby.
It's not just shuffle board on ice. It's also kind of like Bocce for those who have played it, be it on the beach or in your yard.
Something about it is really cool. I want to try it sometime.
2.) This is really number one for me but I wanted to give curling some love... Olympic hockey.
It is literally the best of the best when it comes to the hockey world. Even players that are great that aren't in North America anymore (Peter Forsberg, Jaromir Jagr, Zigmund Palffy, Alexei Morozov) are back in North America playing with the rest of the best.
I'll do a quick break down for you readers the top 5 teams in the tourney.
1.)
Team
Canada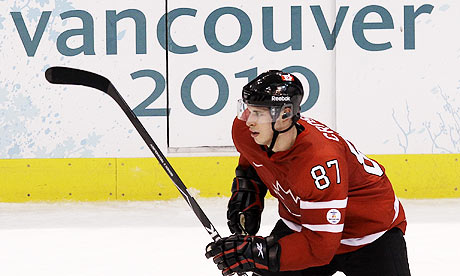 Sidney Crosby
Not only because of the talent on the team, including the likes of Sidney Crosby, Martin Brodeur, Chris Pronder, Scott Neidermeyer, Jerome Iginla, but because of their hosting the games and that added pressure and need to win is what makes Team Canada the favorites. Their strengths are that they're prehaps the deepest team in the tournament in terms fo all around talent. Four lines that could easily put up large numbers and defenders who have booming shots and can control the play.
It's anticipated that Martin Broduer, the all time NHL shut outs and wins leader, will get the bulk of the play during the Games. This only is a problem as in recent years Marty has shown flashes of slowing down as the season wore on. Coming into the games both he and back up Roberto Luongo has had less than stellar outings. Even third stringer Marc-Andre Fleury hasn't been his steady, Stanley Cup winning self as of recent. The age of top line defenders Chris Pronger and Scott Neidermeyer is also a cause for concern.
2.)
Team Russia
Alexander Ovechkin
Offense, offense, offense. That's what Team Russia brings to the table. Their top two lines bolster the past two Art Ross Trophy (most points in NHL regular season) winners Evgeni Malkin and Alexander Ovechkin, former Atlanta Thrasher Ilya Kovalchuk, and Detroit Red Wing Pavel Datsyuk. All of these players have consistently put up more than 90 points in a season. On the blue line they are loaded with offensive weaponry as well. However, this is also their downfall.
The weight of Russia's hopes lies on the goaltending of
Semyon Varlamov, Evgeni Nabokov, and

Ilya Bryzgalov. While the defense has a ton of players with amazing offensive capabilities, what they lack is a strong defensive and physical presence that the US, Sweden, and Canada can bring to the table. They'll need their net minders to bail them out on incredibly high scoring games as their mind set is shoot, shoot, shoot.
3.) Team Sweden
Henrik Lundqvist
The Swedes come into the tournament as the previous Gold winners in Turin back in '06. The roster has gotten older, and that's not necessarily a good thing. Their infusion of youth in the likes of

Loui Eriksson (Dallas Stars)

, Nicklas Bäckström (Washington Capitals), Johnny Oduya and

Tobias Enström (both Atlanta Thrashers) has helped their cause to continue with a steady unit and solid goaltending, especially in the brick wall pictured above, the New York Rangers' Henrik Lundqvist, the Swedes should easily be in the running for the top three.
The infusion of young talent for Teams Canada and Russia is also a hindrance for their best players, who have gotten four years older at a time when age does not treat them gracefully. Previous center pieces for their respective teams Peter Forsberg and Niklas Lidstrom has aged and dropped quite a bit from their prior perches of "best in the world" labels at their positions. Those spots are now occupied by players on Team USA, Canada, and Russia and will harm the defending champs.
4.) Team Czech Republic
Jaromir Jagr
Good offensive and defensive players lie on both ends of the ice for the Czech Replic. Young and old are mixing together for a fairly strong attack and stopping system that includes an aging but still very good Jaromir Jagr coming back to North America for the first time since he left for Russia's Kontinenal Hockey League (KHL) two years ago. Always a threat, the Czech's won Bronze last time around in Turin.
The only weakness right now lies on the depth of their goaltending. It relies on the shoulders of Florida Panthers netminder Tomas Vokoun, who is much better than the team playing in front of him down in Miami. The only issue may be is he accustomed to seeing so few shots that his game will suffer or will he be worn down from the abuse he's taken from the woeful Panthers that he'll wear down? The depth behind him is questionable so it's all up to him.
5.) Team USA
Patrick Kane
Lots and lots of young and offensively gifted talent on the Team USA roster. That's part of the problem, though. There's lots of talent that is young and strickly offensively gifted. Zach Parise (New Jersey Devils), Patrick Kane (Chicago Blackhawks),

Paul Stastny (Colorado Avalance), Dustin Brown (Los Angeles Kings), Ryan Kessler (Vancouver Canucks), and a plethora of other offensive young guns round out a team that has the average age of 26. The goaltending is also a bit of a strength behind Tim Thomas (Boston Bruins) and Ryan Miller (Buffalo Sabers), who will need to keep the team afloat because of their weakness.
The defense is what leaves a lot to be desired on this young Olympic squad. Jack and Erik Johnson (Los Angeles Kings, St. Louis Blues), who are not related, are the future dominants of this blue line but right now are too green. Ryan Suter (Nashville Predators) is also going to be an important cog some day but right now the experience lands on the shoulders of Brian Rafalski (Detroit Red Wings) who has been in two other Olympics, including the Silver winning teams in St. Lake City in '02 and Brooks Orpik (Pittsburgh Penguins), who is playing in his first Winter Games but has played in two straight Stanley Cup Finals and knows how to win a tournament.
So sit back and enjoy some Olympic hockey, including Sunday's match up with Team Canada vs. Team USA. It's a lot of fun and you don't see it too often.
Oh, also awesome about the Winter Olympics... this guy:

Awesome
So awesome.
---
The Bravery- Believe