One million dollars is not a lot of money.
There was a time where one million dollars bought you a lifetime's worth of relaxation and comfort. Not any more.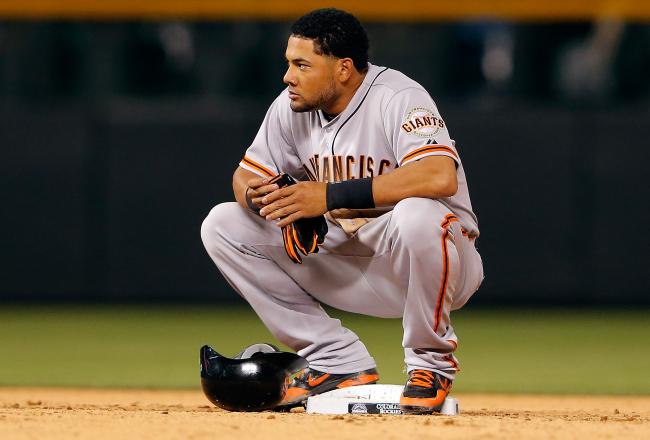 Melky Cabrera (Doug Pensinger/Getty Images)
One million dollars per year for your career sounds like a lot. When your career is only on average just over five years and you're retired by around age 30, five million dollars for the next thirty to forty years of your life is not a lot.
It's the chance at an enhanced comfort and security for themselves and their families that led the San Fransisco Giants Melky Cabrera to
test positive for testosterone this week
. It's that same desire that led Oakland A's pitcher Bartolo Colon
to test positive today
. And few should blame them.
It's easy to forget that baseball is more than entertainment and that the obnoxious player salaries handed out in the sport aren't common. For every Alex Rodriquez there are ten people whom you don't know exist. They are the ones making league average near $3 million a year.
$3 million a year sure sounds like a lot. You're making what one person makes in a lifetime in 365 days. But if you're a professional athlete your lifetime earnings are severely truncated. Your lifetime earnings fall within a very, very small window. Your chance to make large money falls between five years where you may be lucky to make over one million per year. After that your earning ability drops severely.
At 32 you're done. At 32, when us normal people are in our primes, they life they knew is done. They have to suddenly find a whole new way to make an income, and it'll be an income that is many, many, many times less than what they were making just the year before. Suddenly the family you helped support and the people you helped can't be helped.
Bartolo Colon (Reuters)
What would you do to make sure you earned more? To make sure you played longer? To make sure your loved ones are taken care of for a long time? For Bartolo Colon, who has
made over $70 million
in his career, the desire to play longer and take care of others went beyond the $2 million he made this year. It went to the hope he had one more big contract in him, just a bit more for the long haul, one more chance to earn comfort.
For Melky Cabrera the motivation is a lot more simple. He had
earned $6 million
in his career. His one year contract signed with the San Fransisco Giants this year doubled that. $12 million dollars. Sports writers flocked to say that Cabrera's positive test may have cost him a $50 million contract. Over $62 million. For yourself. For your life. For your family. For your own good. If the gamble had paid off, generations would be taken care of.
A few million more. The ability to take care of yourself. The ability to live a stable, comfortable post baseball life. A few million more. In exchange you just need a needle, a serum, and some luck. 50 games are the risk for the next 50 years. Who can blame either of them for taking the chance?
_________________________________________________________