With the firing of coach Mike Brown on Friday the Lakers corrected a mistake that was questioned as soon as it was made. The termination was a surprise in its swiftness but not it its happening. With a 1-4 start behind the likes of Dwight Howard, Kobe Bryant, Pau Gasol, and (the injured) Steve Nash it looked like more of the same from Brown: Doing less with more. As such I began to wonder, "Who in sports has done less with more talent than Brown?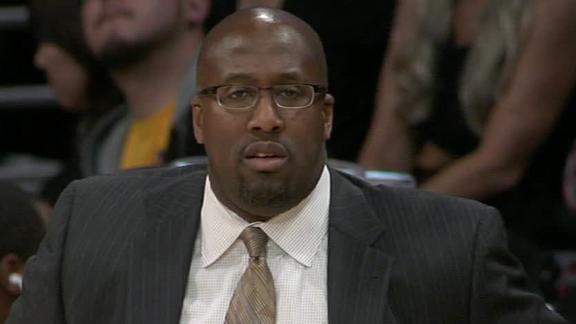 (Mike Brown/ESPN)
The Lakers answered my question for me.
Mike Brown took over the rising Cleveland Cavaliers in 2005 as the defensive whiz assistant from stops in San Antonio, Indiana, and Washington and took a team anchored by Lebron James (and little else) to the NBA Finals by 2007 where they were promptly swept by San Antonio.
In the following years the Cavaliers grew as did Lebron's abilities. A constant contender for the best record in the league (winning that distinction in '08-'09 and '09-'10) Brown's teams were always heavily favored to take home the Larry O'Brien trophy.
(Mike Brown and Lebron James/USA Today)
And they never did.
Players such as Lebron James, Shaquille O'Neal, Ben Wallace, and Mo Williams were the bigger parts of these teams while role players like Delonte West, Zydrunas Ilgauskas, and Anderson Varejao played important pieces in the machine.
All for nothing.
With the departure of James to the Miami Heat Brown was fired while the franchise rebuilt. Luckily for him Phil Jackson was retiring and it left a large void in the hearts of the Lakers. After a coaching search in stepped Brown.
(Mike Brown and Kobe Bryant/ibtimes.com)
Kobe Bryant, Pau Gasol, Andrew Bynum, Ron "Metta World Peace" Artest all fell flat in five games in the Western Conference Semis against the Oklahoma City Thunder. A revamped roster with Bryant, World Peace/Artest, Steve Nash, and Dwight Howard floundered out of the gates.
James, O'Neal, Wallace, Williams, Bryant, Gasol, Bynum, World Peace/Artest, Nash, Howard. Eight seasons.
Zero rings.
No one had wasted more talent than Mike Brown, so I thought. As I racked my brain attempting to find someone who had more but did less that answer was put forth this morning around 3am.
D'Antoni, an offensive whiz, had five years in Phoenix with the Suns as well as three and a half with the New York Knicks. While he had the Western Conference Finals twice it was in his second and third seasons with the Suns. After that never beyond the semis. Adding in only one playoff appearance with the Knicks and... well... it's not looking good.
And the names on those teams?
(Mike D'Antoni and Steve Nash/USA Today)
Grant Hill, Amar'e Stoudemire, Shaquille O'Neal, Steve Nash, Shawn Marion, Joe Johnson, Antonio McDyess, Tracy McGrady, Chauncey Billups, Carmelo Anthony.
Eight plus years with top, top flight talent.
Zero rings.
Somehow the Lakers found a way to go down from Mike Brown. An aging team struggling to find offense but decent on defense will now be an aging team trying to play a high tempo offense with little regard for defense.
In the end the result will likely be the same:
Zero rings.
_________________________________________________________