Congratulations! Through a stroke of luck (i.e. being born in Pittsburgh or into a Pittsburgh originated family) or through choice you're a Penguins fan. Welcome aboard! We're happy to have you and look forward to your contributions, water cooler discussions, and opinions! But before we go too far let's take a moment to discuss the Do's and Dont's of Penguins fandom.
(Darrell Sapp/Pittsburgh Post Gazette)
First of all learn some history. Please. This team has been not only embarrassing but embarrassed by the riches of the game. They have seen some of the worst you can imagine. These range from the recent Rico Fata, Richard Litner, Ramzi Abid, and other Generation X players that brought us into the current second Golden Age of Penguins hockey but the good old boys of the expansion days when Hank Bassen, Bobby Rivard, and Dick Mattiussi skated the sheets at the Civic Arena. It hasn't always been roses.
Coffey, Murphy, Francis, Lemieux
(Justin K. Aller/Getty Images)
Realize you will be spoiled. My hockey fandom expands back to the early 90's when Mario Lemieux (he used to play!) helped lift two Cups. Included on those teams were future Hall of Famers Jaromir Jagr, Ron Francis, Tom Barrasso, Paul Coffey, Larry Murphy, Bryan Trottier, Joe Mullen. In the coming years Luc Robitaille, Sergei Gonchar, Mark Recchi (who started in Pittsburgh), Sidney Crosby, Evgeni Malkin, Marc-Andre Fleury, and now Jarome Iginla were all added to the team. They will all be immortalized in Toronto one day and as a Penguins fan they've worn your sweater. There are few teams that claim that. For the time being just sit back, relax, and enjoy this ride.
You are not the GM. As great a hockey mind as you may think you have you're not the one who makes the decisions. Remember when you wanted to trade Malkin and keep Jordan Staal instead? Remember when you insisted that starting Brent Johnson would be the best thing and to trade Fleury? What about when you thought that Kris Beech was the next Ron Francis?
Whoops.
Okay, let's ignore that one. Either way these men have spent years honing their craft and living the game of hockey. You watch the games, look on Twitter and maybe browse some message boards. They know better than you.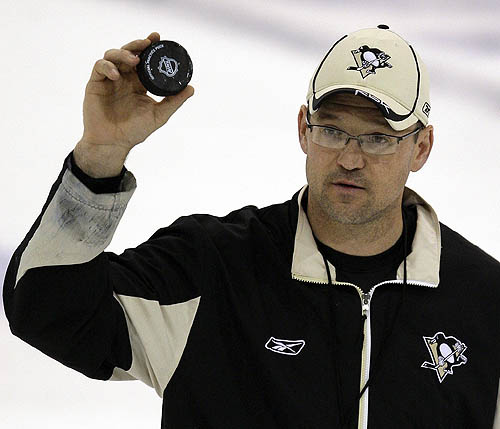 Dan Bylsma (Gene J. Puskar/Getty Images)
You're also not the coach. Know that such well known tropes as "Get to our game" are a simplistic way of explaining a long process. Dan Bylsma doesn't go into locker rooms and say "Just go hit some people and score goals and stuff wanna hang out on Friday?" There's a long, complicated method to the message. It's why countless players who have been traded here have cited "learning the system" as part of the acclimation process. It's part of why Niskanen, Neal, and others have looked better in their second season on the team. It's part of why every single team, from the Wheeling Nailers up to the big club, run the same system. And it's part of the reason Bylsma has a Jack Adams and a Stanley Cup to his resume.
Despite this they're not above criticism. I know it seems like a contradiction but just because they are one of the 30 best in the world at their job (I'd argue top 10, your mileage may vary) doesn't mean they're infallible. Ray Shero traded for Alexei Ponikarovsky, Georges Laraque, and Tyler Kennedy is still a Penguin. Dan Bylsma saw his system erode to lose to a Flyers team that really... wasn't great... in last year's playoffs. Sometimes it doesn't work out. At times it's not their fault (Tampa series comes to mind). Sometimes they do shoulder the blame.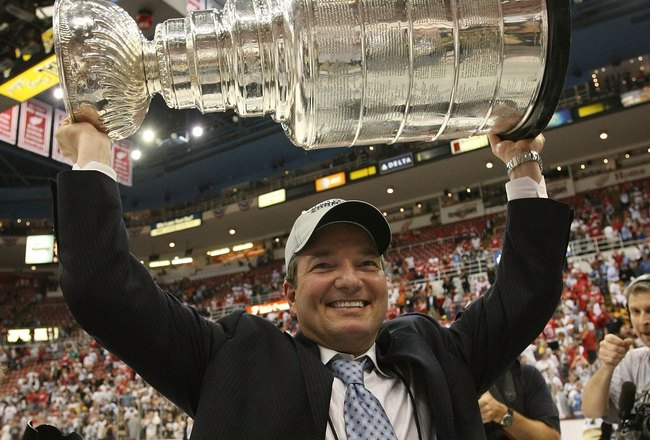 Ray Shero (Bruce Bennett/Getty Images)
If you're a fan you're a fan. This is a tough one because sometimes you're a fan because of the city, sometimes you're a fan because of the logo, sometimes you're a fan because of a player. Either way you're a fan. Just because you can't break down the 1972-73 Pens starting roster and only follow because Sid is soooo hawt doesn't make you any less of a fan. Just because you live outside of Pittsburgh and don't attend games doesn't mean you know less than a season ticket holder. Just because you just started following and only know Mario's prime through YouTube doesn't mean squat. You're a part of the family. Every family has people you don't like or don't acknowledge. Doesn't make them any better or worse than you.
Finally hockey is entertainment. This is the most important. I know you own jerseys, shirts, hats, sweaters, jackets, et al. I know you pay good money to go to games when you can. I know you may live and die with every game but relax. This is entertainment. If at any point watching a game because a chore and not a thrill, if it becomes a duty and not an escape, if you ever feel it's more than just something fun... just walk away. You can always come back. There is truly no such thing as a bandwagon. Anyone who judges you is not someone you should bother talking to anyway.
Now sit back, relax, grab a beverage of your choice and the jersey of your choice (I go with my Sid), and enjoy the ride. Here's hoping for another chance to drink brandy from Lord Stanley.
(Jason Bridge/USA Today)
_________________________________________________________